Check Out These Great Monthly Specials!

Graco #24V034
Call for pricing
Quart Meter - U.S. quarts with 1/4-quart graduations
Balanced, light weight, rugged construction and comfortable grip
Non-resettable totalizing register helps manage material usage
Ideal for indoor and outdoor use
We offer discounts on these products. Please call or email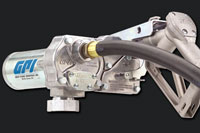 GPI Pump M150-S Part #110000-99
Call for pricing
This industry standard DC pump dispenses up to 15 GPM (57 LPM). The pump weighs less than 27 pounds (12.2kg), with hose and nozzle, and has a draw that's easy on the DC power source.
Explosion-proof UL/cUL listed 1/4 HP motor with permanent magnet and ball bearings
Heavy-duty switch, thermal overload protection and junction box
Heavy-duty battery cable
Automatic bypass valve
Built-in strainer
12' (3.7m) hose with static ground wire
Manual nozzle with nozzle boot that protects against dirt and contamination
2" threaded base for tank openings
Corrosion-Proof adjustable suction pipe
Pump may be padlocked
No foot valve required
Options
Series 01A digital meter in gallons/liters
Automatic nozzle
Series 2400C, 1/4 HP, 24 Volt DC 10 Amp motor
We offer discounts on these products. Please call or email

Graco 25 Gallon Used-Oil Oil King
Call for pricing
25 Gal. Oil King Used-Oil Receiver. Polyethylene tank w/ used filter tray, tool holders and all hardware for topside evac or bottom drain Note: Item may encounter longer shipping times due to size.
Part Number 238866_
Container Size 25 gal.
Tank material Polyethylene
We offer discounts on these products. Please call or email